Canon PowerShot G9
Powershot G9
12 Megapixel CCD imager for up to 4000×3000 pixel images
6x optical 35-210mm f/2.8-4.8 zoom, 4x digital zoom
Lens-Shift type optical image stabilization system
3.0″ high resolution color LCD with up to 10x playback zoom
Advanced TTL AiAF 9-point autofocus system
Low-light focus assist illuminator
Program AE, Shutter-speed priority, Aperture priority, Manual, and Custom exposure modes
16 Pre-programmed creative scene modes for specific shooting situations
Movie mode w/sound at resolutions of 1024×768 (15fps), 640×480 or 320×240 (30fps)
1.5fps Continuous burst capture of Large/Fine images
Evaluative, Center-weighted or Spot metering options (fixed to the center or linked to the AF frame)
Stitch Assist mode for perfect panoramas
Exposure compensation: +/-2EV in 1/3-step increments
White Balance: Auto, 6 presets or Custom
Orientation sensor that automatically detects vertical or horizontal shooting
Light-guide zoom flash, angle changes with focal length
Hot shoe accommodates Canon Speedlites
Shutter speeds of 15 seconds to 1/2000 second
Selectable ISO settings from 80 to 1600 (3200 using special scene mode)
Built-in microphone and speaker
Sound recorder stores up to two hours of voice memo
Powered by Canon NB-2LH 7.4v 740 mAh Li-ion battery pack
Direct print and PictBridge Compatible
USB 2.0 high-speed connectivity for PC and Mac
SDHC/SD/MMC/MMC Plus compatibility, 32MB card supplied
Optional wide angle and telephoto lens adapters
Optional High-Power Flash HF-DC1
Optional Waterproof Housing WP-DC21

MRP – Rs 29,995/-

EMI – Rs 2499/-
Call Rama Color to know the latest prices, actual prices may be lower. Call at 9810074177, 9818808206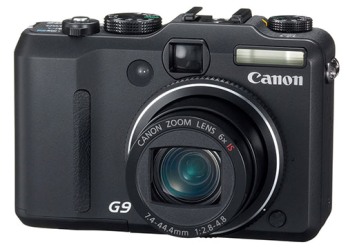 Review
Product Summary
The good: This digital camera has a cornucopia of features; it's zippy and built like a tank.
The bad: Relatively significant distortion at the widest angle of view; when zoomed out completely, lens intrudes into viewfinder; no optical zoom during movie capture.
The bottom line: The Canon PowerShot G9 is a solid enthusiast digital camera for those who want something compact to complement a dSLR.
Detailed Review
The PowerShot G9 has almost every feature you could possibly want on a camera. On the automatic side, you've got a point-and-shoot mode and numerous scene modes. One of those scenes is the requisite high ISO mode, which is essentially useless. One feature that I do like called Auto ISO Shift, which lets you boost the ISO at the push of a button, in order to get a sharp photo. There are plenty of manual controls on the G9 as well, including white balance, shutter speed and aperture, and focus. The camera lets you store two sets of your favorite settings to spots on the mode dial, and one of the buttons on the back of the camera is customizable. And, as I mentioned, the camera now supports the RAW image format, and the newly enhanced RAW Image Task software is fully capable of editing these images. About the only manual features missing on the G9 are white balance fine-tuning and a bulb mode. Regardless of your skill level, you'll appreciate the G9's movie mode and redeye removal tool — and trust me, you'll need the second one.
Camera performance was generally very good, except for battery life. Startup time was great, with the G9 ready to go in just one second. Focusing times ranged from 0.2 seconds at the wide end of the lens to around a second at the telephoto end. Low light focusing was excellent. Shot-to-shot delays were minimal, ranging from 1 second when shooting JPEGs to 2.5 seconds when shooting RAW+JPEG. The G9's continuous shooting mode isn't the fastest out there (topping out at 1.4 fps), but it will let you shoot until your high speed memory card is full. While battery life has improved since the PowerShot G7, it's still below average in the ultra-high resolution class.
As long as you don't let the ISO sensitivity wander too high, you'll get very good quality photos from the PowerShot G9. They were well-exposed, with colors that are both accurate and vivid. The one time colors weren't so accurate were when I was using custom white balance — the resulting photos had a greenish color cast. Photos have the "smooth" appearance that has become a trademark of Canon cameras. While noise doesn't become a problem until the highest ISO settings, artifacting caused by noise reduction kicks in a lot earlier. You'll start seeing noticeable detail loss at ISO 200 in low light, and ISO 400 in good light. While purple fringing wasn't much of a problem, redeye was. Thankfully, there's now a tool in playback mode to get remove this annoyance from your pictures.
The PowerShot G9 is a solid high-end camera, though it won't be replacing your digital SLR anytime soon. It offers a full set of features, both automatic and manual, and throws them into a well-built, expandable body. If you keep the ISO as low as possible you'll get some nice photos out of the camera, though a D-SLR will wipe the floor with the G9 at higher sensitivities. Though I still miss the fast lens and rotating LCD of the older G-series models, I can still recommend the PowerShot G9 to anyone who wants a high-end camera without stepping up to a digital SLR.