Sony CyberShot DSC W150 / W170 / W300
Equipped for the most challenging shots
Sony Cyber-Shot DSC-W150 Digital Camera
8.1 Megapixels

2.7" LCD

400 shots

5x Optical Zoom

10x Digital Zoom

MRP Rs 15,990/- (Inclusive of all taxes)
EMI Rs 1333/- (For 12 months, 4 EMI in advance)
Call Rama Color to know the latest prices, actual prices may be lower. Call at 9810074177, 9818808206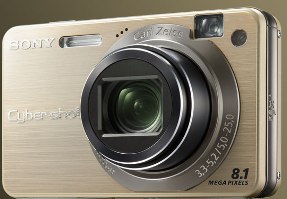 Sony Cyber-Shot DSC-W170 Digital Camera
10.1 Megapixels

2.7" LCD

390 shots

5x Optical Zoom

10x Digital Zoom

MRP Rs 17,990/- (Inclusive of all taxes)
EMI Rs 1499/- (For 12 months, 4 EMI in advance)
Call Rama Color to know the latest prices, actual prices may be lower. Call at 9810074177, 9818808206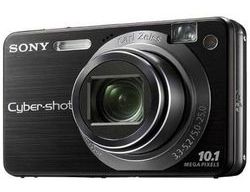 Sony Cyber Shot DSC-W300 Digital Camera
13.6 Megapixels

2.7" LCD

300 shots

3x Optical Zoom

6x Digital Zoom

MRP Rs 19,990/- (Inclusive of all taxes)
EMI Rs 1666/- (For 12 months, 4 EMI in advance)
Call Rama Color to know the latest prices, actual prices may be lower. Call at 9810074177, 9818808206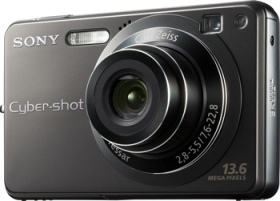 Comparison Chart
Feature

DSC-W150

DSC-W170

DSC-W300

Street price
(at time of posting)

Rs 15,990/-

Rs 17,990/-

Rs 19,990/-

Resolution

8.1 MP

10.1 MP

13.6 MP

Optical zoom

5X

5X

3X

Focal length (35 mm equiv.)

30 - 150 mm

28 - 140 mm

35 - 105 mm

Lens max. aperture

F3.3 - F5.2

F3.3 - F5.2

F2.8 - F5.5

LCD size

2.7″

2.7″

2.7″

LCD resolution

230,000 pixels

230,000 pixels

230,000 pixels

ISO range

80 - 3200

80 - 3200

80 - 3200

Intelligent Scene Recognition

Yes

Yes

Yes

D-Range Optimizer

Yes

Yes

Yes

Enhanced playback mode

Yes

Yes

Yes

Supports underwater case

Yes

Yes

No

Battery life
(CIPA standard)

400

390

300
Features
Intelligent Scene Recognition Mode
The W170 and W150 cameras feature new intelligent scene recognition (iSCN) technology, which allows the camera to automatically select the optimal scene mode for a variety shooting situations. In advanced iSCN mode, the camera will take a photo based on the user's settings. If the camera determines that another setting would yield better exposure, it will automatically take a second photo with that setting. The user ultimately has two images to choose from.
Double Anti Blur Solution
This technology lets you capture various scenes clearly even in low-light conditions, such as indoors without a flash and when capturing fast-moving subjects outdoors.
Sensors in the camera detect shake and move the lens to compensate. In other words its true physical image stabilisation not the false stabilisation found on some other cameras which simply bump up the ISO to get a fast shutter speed.
Advanced Face Detection Technology
Sony's advanced Face Detection technology synergises with Bionz to deliver highly precise, high-speed auto-focusing of up to 8 subjects' faces when shooting portraits. This synergism ensures quick camera tracking of subjects, even when faces are slightly in motion, and significantly improves the performance of various camera features.
The additional wide or ultra wide viewing angle of these lenses make them ideal for use within landscape and interior or exterior architectural photography.
High sensitivity reduces subject shake blur so you can capture clear images anytime — even when shooting at sporting events.
Simply activate Smile Shutter, and the camera takes a picture — automatically! Using Sony's proprietary algorithm, this innovative intelligent auto shutter system responds actively to smiling faces. To start, just choose Smile Shutter from Scene Selection, then press the shutter fully on the subject to be taken; the camera automatically detects the smiling face and closes the shutter.
Special Offer from Rama Color : Free 1 GB Memory Stick with the above models