Sony Cyber-Shot DSC-T2 Digital Camera
Sony Cyber-Shot DSC-T2 Digital Camera
8.1 Megapixels
2.7" LCD
280 shots
3x Optical Zoom
6x Digital Zoom
MRP Rs 17,990/- (Inclusive of all taxes)
EMI Rs 1499/- (For 12 months, 4 EMI in advance)
Call Rama Color to know the latest prices, actual prices may be lower. Call at 9810074177, 9818808206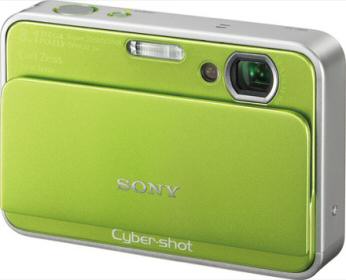 Review
The good: Zippy performance; sleek design; 4GB built-in memory; optical image stabilizer.
The bad: Requires dongle for USB; will only use memory card if internal memory is full; slow zoom.
The bottom line: A likable ultracompact snapshot camera, the Sony Cyber-shot DSC-T2 nevertheless faces stiff competition from its own siblings, the T20 and T200.
In almost all respects, the T2 is quite the zippy shooter. From power on to first shot takes a hair less than 2 seconds. Time to focus and snap runs only 0.4 second in good light, though that rises to 1.2 seconds in dimmer situations–pretty good for a snapshot camera, but slower than you really want. The interval between two consecutive shots is a brisk 1.4 seconds, which rises to 2.5 seconds with flash. In burst mode, it snaps at a clip of about 2 frames per second. Only the T2's slow-zooming internal lens provides a less-than-satisfying performance experience; it takes about 2.6 seconds to traverse the 3x zoom range. (By comparison, the T200 takes 2.8 seconds to cover its 5x zoom range.) As always, though, the Super SteadyShot optical image stabilization works well.
Overall, the T2's photos look pretty good. As with the T200 and T20, they're softer than the previous generation's–notably the T100–and than some of the competition's, due to what looks like more aggressive noise reduction. Still, they show good exposure and automatic white balance. There's a bit of lens distortion and a bit of purple and cyan fringing, but the colors look pleasing and reasonably saturated. Like most snapshot cameras, photos taken at sensitivities beyond ISO 200 look really mushy and by ISO 800 lack detail entirely, so take Sony's claim of ISO 3200 capability for the T2 with a chunk of salt.
Though it's a perfectly competent little camera, on the basis of features, image quality, and performance, there's little reason to opt for the Sony Cyber-shot DSC-T2 over the less expensive T20 or better-equipped T200. If you find the design a significant attraction, then I suggest you visit one in a local store before making the commitment.
Features
Imagining bringing all your fondest moments and sharing them wherever you go. As the world's first digital camera to be equipped with a generous 4GB internal memory, the CyberShot T2 becomes your portable digital album
Equipped with a 2.7 Clear Photo LCD and Touch Screen capabilities, you can now view all your pictures and access all menu functions with just one touch
Double Anti Blur Solution
This technology lets you capture various scenes clearly even in low-light conditions, such as indoors without a flash and when capturing fast-moving subjects outdoors.
Sensors in the camera detect shake and move the lens to compensate. In other words its true physical image stabilisation not the false stabilisation found on some other cameras which simply bump up the ISO to get a fast shutter speed.
High sensitivity reduces subject shake blur so you can capture clear images anytime — even when shooting at sporting events.
Style your photos with a touch of creativity as you set and change the mood for your digital album. The scrapbook function allows you to personalise the background of your favourite pictures. With 16 different types of wallpapers to chose from, have fun with your digital album.
Free with this camera (from Rama Color)
Sony Original Carrying Case
1 GB Memory Stick