Sony Cyber-Shot DSC S730 / S750
Sony Cyber-Shot DSC-S730
7.2 Megapixels
2.4" LCD
440 shots
3x Optical Zoom
6x Digital Zoom
MRP Rs 8,990/- (Inclusive of all taxes)
EMI Rs 749/- (For 12 months, 4 EMI in advance)
Call Rama Color to know the latest prices, actual prices may be lower. Call at 9810074177, 9818808206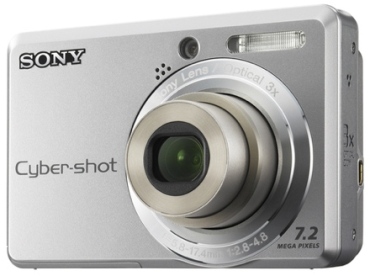 Review
The Sony DSC S730 is a simple, straightforward digital camera. It is priced to attract anyone who is looking for a digital camera, but does not want to break the bank. This is a 7 megapixel camera with a 3x optical zoom lens. Pictures and camera settings can be viewed clearly on the large 2.4-inch screen. Touching a button switches instantly to Playback mode, making it quick and easy to check pictures during shooting. There's also an on-screen Histogram mode that displays image brightness in graphical form – useful if you're fine-tuning exposure settings for the best possible results.
Sony Cyber-Shot DSC-S750
7.2 Megapixels
2.5" LCD
280 shots
3x Optical Zoom
6x Digital Zoom
MRP Rs 9,990/- (Inclusive of all taxes)
EMI Rs 833/- (For 12 months, 4 EMI in advance)
Call Rama Color to know the latest prices, actual prices may be lower. Call at 9810074177, 9818808206

Review
Sony Cybershot S750 would be a good pick as a small, lightweight go-anywhere camera for a more experienced photographer or a first rig for a total newbie. In its extremely small and ergonomic frame it packs a 7.2-megapixel sensor, a 3x optical zoom lens, face detection, and a high sensitivity ISO 1200 mode for shooting in low light. In other words, it's got everything you need for snapshots, party shots, and general day-to-day shooting.
Features
Face Detection Technology
Sony's new and exciting Face Detection Technology finds faces for beautiful pictures.  Focusing on what's important, Face Detection Technology identifies and tracks human faces to automatically and intelligently adjust for white balance, exposure focus and flash levels for stunning clarity and beautiful photos. Its amazing ability to capture and reproduce accurate and detailed portraits of up to eight faces with enhanced quality and superior colour reproduction is second to none. With Face Detection, the result is perfection at every click.
High sensitivity reduces subject shake blur so you can capture clear images anytime — even when shooting at sporting events.
The Cyber-shot S-Series Multi-point Auto Focus tracks subjects movements over a range of five distances, so even if the main subject isn't in the center of the viewfinder, this high precision focussing capability still allows you to take clear, precise pictures.
Select a suitable scene mode in any situation to capture the perfect moment. And no need to make any manual adjustments too.
No more worries about battery exhaustion! With Cyber-Shot S730 you can shoot upto 440 pictures at a go.
Free with these cameras
Compact Charger Battery Pack with DSC – S730
1 GB Memory Stick